Time Tracker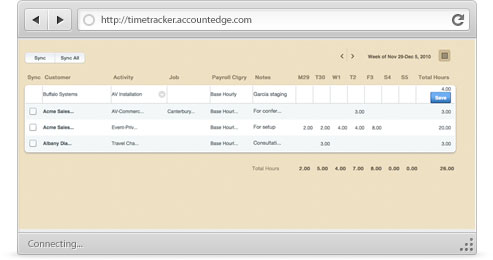 Sign up in less than 60 seconds, without a credit card

Time Tracker for AccountEdge is a seamless way for employees and subcontractors to submit activity slips and timesheets from anywhere with internet.
Time Tracker is a subscription-based service, developed by Acclivity and integrated with AccountEdge Pro, Mac and Windows.
M
$25/month
up to 5 users
L
$50/month
up to 10 users
XL
$100/month
up to 50 users
XXL? Fill out this form and we'll contact you to discuss your needs. Plans can be canceled at any time.

Submit time on the go
Enter activity slips or time sheets anywhere online using most browsers, Mac or Windows.
Integrated Timer
Use the timer to help you manage time spent on an activity, in real time.
Secure access
Users don't have direct access to your AccountEdge files, so your records are secure.
Apply time to payroll
Attach a payroll category to each activity slip or time sheet to do payroll for time spent.
Apply time to jobs
All time entries can be applied to a job for additional tracking and reporting in AccountEdge.
Sync transactions
Activity slips and time sheets sync with AccountEdge for easy time billing invoice creation.
Try Time Tracker free for 30 days - get started today.
Try it free

Testimonials
What our valued customers are saying about us

"Time Tracker has tremendously
improved our efficiency because
we no longer have to enter time
slips manually into AccountEdge
from a spreadsheet."
Stephen Hartfield
Stephen R. Hartfield, CPA

"AMAZING product. Honestly I'm making more money because of
Time Tracker and collecting it
faster. It's paying for itself over
and over again."
Gene Butler
Butler Computer Services

"We have new clients to add all the
time and we bill frequently, so
Time Tracker is a great tool for up
to date time entry. It's quite a bit
better than QuickBooks."
Bryan C. Rice
Bryan C. Rice, CPA